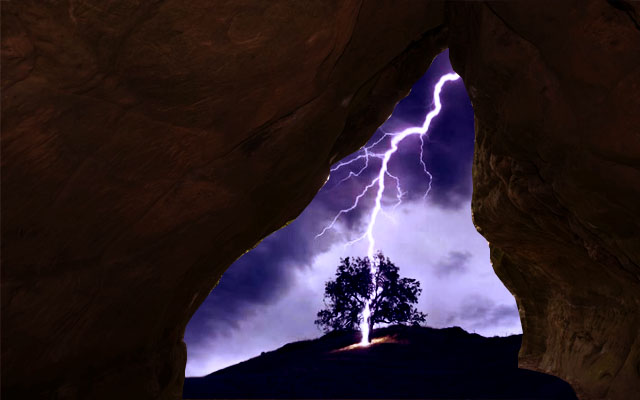 We humans are very good at creating "stories" about "things that happen". The history of mankind is full of stories and describes the consequences and impact of what happened when people acted according to the stories they believed in.
So, what is a story?  Without taking any specific example from our history (there are many) the following may help to understand how stories came to be…
~
Imagine primitive men from a small tribe living in a cave 5000 years ago, experiencing a huge thunderstorm in the middle of the night. Then a sudden explosion of a lightning bolt near the entrance of the cave, setting a tree on fire! The group is scared and doesn't know what to do to make this go away…it is a terrible night and no one can sleep.
The shaman of the group explains the next day, that the fire from the heavens was a sign from the gods that they were displeased with the tribe and that something very special should be done in order to restore the balance or else things will go very badly for the tribe.
The people listen to his story (a big impressive man with fiery eyes) and feel that since "he knows" what the gods want, his word is truth. The shaman explains that because of the severity of this situation one of the children must be chosen to be sacrificed, and so it happens…
Many years later the tribe while sitting in their cave recalls this event and all present nod and confirm how this sacrifice has stopped the anger of the gods because since then this terrible event has never taken place again. This strengthens their belief that gods exist and special rituals are necessary to please them.
In the meantime, this story has reached other tribes who are very impressed by it, they believe it is also a way to prevent bad things from happening, so they start making special sacrifices every year to please the gods. A new religion is born…
~
Okay, this may sound like a particularly gruesome and extreme example, but is it? Isn't a similar (primitive) mechanism still playing out today when thousands of young "freedom fighters" go to war and are sacrificed for the sake of their tribe, their nation, their story? Perhaps instead of trying to please many gods, there now is one god to be pleased, or one leader, or one country.
Okay, you may say that some of these stories and beliefs really matter, because there are millions of people believing in their importance. So they must have (some) truth to them. But is that so? We create stories in our head every day which we you may call "small" stories, but they can have big consequences. You may for instance meet someone who has another "religious/political/racial/national" story than you do,  who acts in a way you don't like. Anger builds in you and you now become suspicious of people who you deem to be part of that tribe.
We may think we are rational reasonable people, but these primitive tendencies are still very strong in us. We so easily believe "stories". Time and time again we fall for them, which is the reason that autocrats and tyrants come to power, by exploiting this mechanism.
We mankind live in something we call "Reality" but it seems many of us prefer to spend our entire life within the walls built by our story, our particular beliefs. We often fear to look outside these walls. Looking at the state of the world; perhaps it's time we do. A story is not Reality itself. It only offers a particular interpretation. It provide answers, meaning and thereby a sense of security. That's all. No need to take them so seriously, perhaps even better to question them instead! (if you have the courage)
Yuval Noah Harari is an Israeli historian, philosopher, and a professor in the Department of History at the Hebrew University of Jerusalem. He is the author of the popular science bestsellers Sapiens: A Brief History of Humankind (2014), Homo Deus: A Brief History of Tomorrow (2016), and 21 Lessons for the 21st Century (2018). He has written extensively about human beliefs, myths, the stories we create and how they have shaped human "hi-story".
If that interests you, you may want to watch the video below: