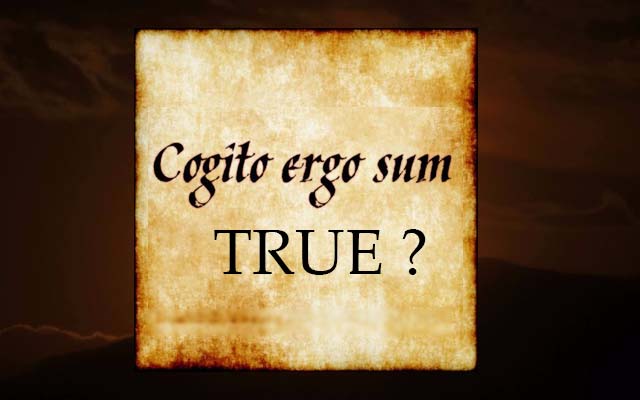 Most people assume that in order to exist or to be; one needs to "think".  René Descartes (a French philosopher and scientist) has suggested this in 1637 in his famous statement: "cogito, ergo sum".  (I think, therefore I am)
He suggested this as proof of the reality of one's own mind; there must be a thinking entity—in this case the self—for there to be a thought. With the latest insights from neuroscience however, we now know that the "separate self" is not an entity. Perhaps one could describe it as an activity, but the self is NOT a "thing".
This article poses that what most people call "knowing" is actually "conceptual thinking".  "Knowing" in the broader sense does not end however when thinking takes a pause.
You can test this for yourself: look at someone and see how thoughts come up like: "oh, he/she has nice hair/a big belly/a beautiful nose, etc. etc."  Notice how the conceptual/abstracting thinking puts labels on what you perceive, puts it into a box and limits it. Most people tend to believe such thinking and take it as meaning something real and important.
Suppose the next day you are asked whether you "know" this someone… So what do you answer?  Perhaps in your mind thoughts come up which recall something about what you observed the day before, but what do you know really?
Test this out for yourself: look at someone or something but simply ignore whatever thoughts come up. Perhaps you'll notice how now and then there is a pause between those thoughts. You may be astonished that what you may call "knowing" or "perceiving" does NOT end in the space between thoughts!  During this silence another form of "knowing" continues, one that is not limited by abstractions, labels, conclusions, or in other words by; "me thinking about something"!
That kind of "Knowing" goes much deeper, is free, immediate and needs no conclusions, it needs no thoughts actually. When looking at someone or something, you see and sense without the usual labeling and evaluating. To recognize such "Knowing" is the discovery of a great sensitivity, a great freedom. All of the above is not implying that (chronic) conceptual thinking is bad, but it does point to the limitations of it. There is much more to Life than that!
Have you discovered this too?  Feel free to share your experience in the comments below…