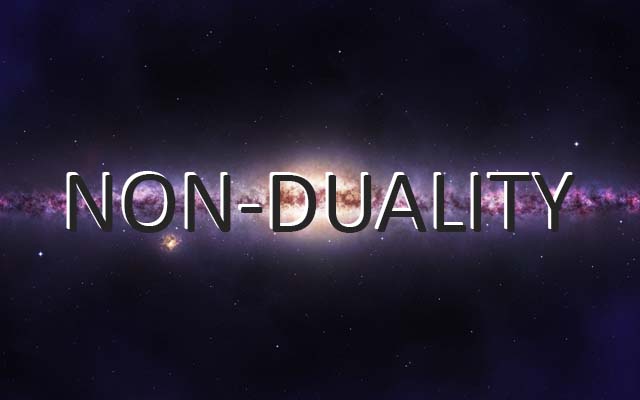 Non-duality is the western translation of "Advaita", a Sanskrit word which means; "not two". It can be found at core of many religions. Non-dualism however isn't tied to anything. It can't be described in terms of what it IS, but only by what it IS not!
One way to illustrate it is by quoting a few lines from the Tao Te Ching, a philosophical and mystical text from ancient China written several hundreds years B.C.
Nameless is the origin of Heaven and Earth
Naming is the Mother of all things
When beauty is known by the world, the concept of ugliness is also created
When goodness is known by the world, the concept of evil is also created
Therefore being and non-being give birth to each other
Although what non-duality points to can't actually be described, one way to summarize the above in 21st century terms:
All of Existence or Reality is One and nameless
In our mind we create "knowing" which is based on the feeling of separation. (duality)
In doing so we create a viewpoint which we call: "self" or "me".
We start believing that this how is Reality works and act accordingly
From this division, separation, conflict and psychological suffering arise and we become seekers for a solution for these "problems".
When we begin to see the limitation of our assumptions we may begin to realize that Reality is actually not about a separate "self" and its implied "duality"
We begin to understand it is possible our assumptions are unreal and they can be "dropped" which implies the end of "self". A huge paradox!
When the illusion of the "self" assumption dissolves, it brings about a profound transformation.
It is the beginning of what we may call peace or happiness or a deep awareness of the profundity of Life. Everything we sought for was always already there. It is all there is. It was our act of separation from it which made it seem otherwise.
Some would describe it as "All there Is", "Wholeness" or "Divine" and so on.
Early non-duality based texts like the Tao Te Ching actually suggest that it is a "mistake" to create words for this nameless Reality in which everything is. A common mistake made in religion for instance is the concept of "Creation" and "Creator-God".  This creates a primordial duality. Non-duality as a "principle" makes no difference however and would imply that Creation and Creator are One. It would imply we just have the illusion that there is a duality there.
All of the above is not at all meant to be theoretical, philosophical or religious. When the sense and pattern of "me" begins to fall away, That which is always already the case and indescribable becomes apparent. Various people and mystics spoke about this.