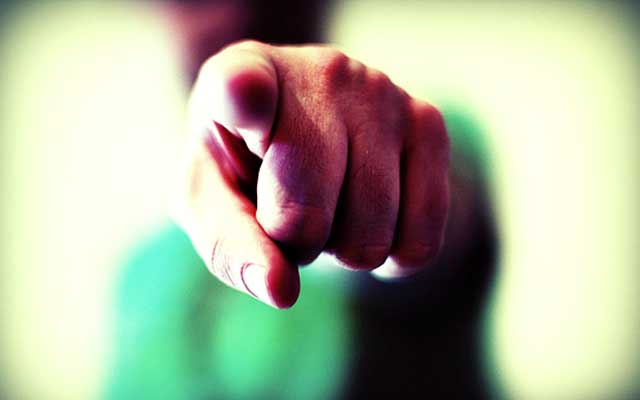 There are differences between people all over the world. Various parts of the world, countries and cities have various cultures and customs. People come in all kinds of colors, shapes and forms. That's a beautiful thing. Yet, why does that lead to division and conflict?
Let's explore a strange example: imagine that you are told by someone who you regard to be an authority, that it is now proven that people with brown eyes are really better and smarter than others. (an insane idea, but OK).  You happen to have brown eyes, so that feels good. You may eventually accept this idea, when you keep hearing it often enough.
Then you meet one of your old friends from school, and you realize that he has blue eyes! You may have never noticed it or felt anything special, but now you look at him through a different mindset, you act different, and feel superior perhaps. The other person of course senses that and reacts. Something "in the air" has changed, or rather, in your mind. Do you think this is a crazy example?  Well unfortunately it is not, this experiment has actually been done…read here.
Science and technology have gone through huge (r)evolutions and development, but  the evolution of human psychology seems to be seriously lagging behind. Just look at the history of peoples and countries that believed they were superior in whatever way (superior intelligence, chosen by God etc.) or they believe others are inferior, which is no different. It is always the same story. It seems to be anchored in our genes and memes, or the tribal aspects of human psychology.
It means this mechanism is right here and now, in you and in me! So what could we do differently? In the given example where we given this "truth", we could have:
rationally questioned the factual statement about brown eyes. Looked for facts to prove and disprove this truth.
been aware that there might be a bias or belief system at work, in the person who stated this truth
wondered – is this my experience too? Is it relevant?
When the thought came up "he has blue eyes, so…." we could have chosen not to identify with it.
To explore: could it be that the problem (of division and conflict) arises in the very moment we identify with a belief system, or more precise: a thought, emotion or judgement, based on that belief?
We suggest that the existence of different cultures, customs, habits or ideas is not the problem. We suggest that the act of identification with any belief system is THE problem, because it creates division, duality and conflict. That is the psychological principle we have to overcome. When you and I meet as self-aware being without being identified with any belief, thought or judgement, we can meet in openness and freedom.
When you and I meet as people with opposing religions, political or national identities, we will act and react from a sense of division and separation. That division is happening in our mind only. That division is an illusion, but so often we identifity with it, we believe it.
~~~
@YOU: What are your experiences? What does this act of identification mean to you?