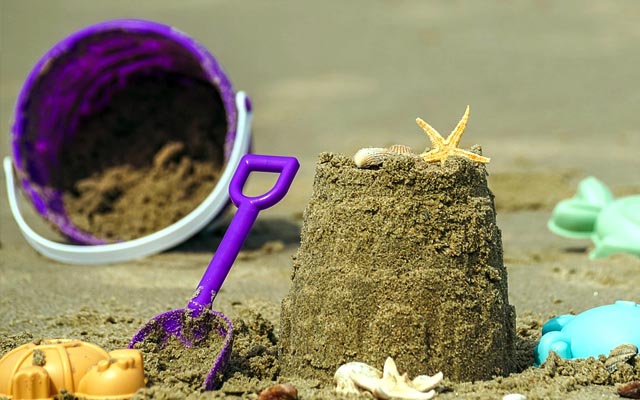 Somehow at a young age, we humans begin to feel that we are separate, that we are individual entities, different from others, separate from life. Whether this psychological process of individuation is useful or not, positive or negative is not the point of this article. It happens. Apparently in all humans. But is individuation the end point? Many seem to assume so. Most likely however, individuation is not the end point. The psychological evolution of mankind has not ended, but has only just begun. Simply read the history books…
What does it mean to live as an individual, as a person? Well we all know, but here is a fantasy story;
~
>> the Two year old
Warmth. Light. The smell of sea, the sand, the sense of wind stroking skin. Colours all around. There is playing with sand. There is the soft noise of the scoop entering the sand and digging. Voices. Voices of people. Children plunging in the water. Everything mixes into a timeless experiencing… Life is mysterious, unknown, open.
>> the Shock
Suddenly there is pain! Eyes are hurting! The strange taste of seawater mixed with sand and blood. There is toppling over, the whole world is turning! Confusion! Strange noises and sound! Crying! Intense pain! Panic!
>> the Contraction
Standing up. Still crying. The body is shaking with anger and fear. Primordial feelings arise: "Life is not safe! Life and people can hurt me. I must defend myself or fight". I grab the scoop and hit back. It is beginning to get clear now. There is me and there is other! 
>> the Adult
Very important day today. Must make a good impression on the boss. This must work out. No, just relax. Don't worry. It will go fine. I am sitting here, waiting for the door to open, but soon he will ask me to come and enter his office. I wonder why he asked me to talk to him today? I hope he won't give me a hard time, like last year. What shall I do, if that happens again? Maybe I should just let him talk and ignore it. Oh no, wait. That did not work out well for me last time. I looked like a fool. I must take my stand and show him that I am the best one for this job. It's simple. I actually should be promoted to a better position. Really. My colleagues are not up to it. Though I must say that Mary Jane really is smart. Damn, what if she has already talked to him, before I did! I'm a fool, I should have asked for promotion last month! O my god, what will happen if I don't get this job! Damn, I'm screwed if this does not work out! I am really in a tough situation! My heart is beating fast now. The door opens. There is my boss… I hope it goes well this time…
>> the Old man
My life did not work out as I wanted. I should have made better decisions.  Darn, I feel so unhappy and powerless. I can't change the past but at the same time I can't stop thinking about it. Maybe actually it was not my fault! I am not to blame really.  But here I am. I did not get what I wanted to get in my life. It's OK to feel a bit depressed. Many people in my situation would feel that. Of course I feel bad. I wonder still though what would have happened if…
~
Becoming an individual (person) and finding our own way in life is perhaps a necessary step in our psychological development, but we are mistaken when we think that it is the last step and the only way to live… There are people who awaken out of this dream that there is a "me entity" who has a real past and a real future, has real problems to solve and is going to get and achieve things. (whether that is money, things, relationships or spiritual goals)
Could the next step in human psychological evolution be the letting go of this belief in "me" as a central "entity"?
Only a few hundred years ago the commonly held belief in religion (and science) was that the entire universe including the sun revolved around the Earth and was specially created for certain humans who belonged to a specific religious group. In those times, to doubt or criticize this, meant punishment, prison or death. Now in the 21st century it is seen how ridiculous and limited that point of view was.
Perhaps in similar fashion, it can be seen how ridiculous and limited the idea (belief) is that life revolves an actual "me" at its centre. The seeing of this illusion does not mean that life ends however. One can safely say that in a way, it is a whole new beginning, but not of anything or for anyone. The mind cannot grasp this. That is why it is Freedom and love.