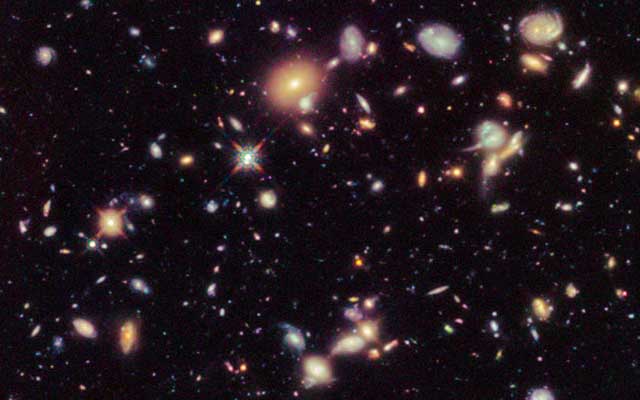 Every month new planets are discovered around nearby stars. (read here) Planets seem to be a very common thing. So when there are some 2000 billion galaxies each with some 100 billions stars, there must be many billions of "life-friendly" planets. It is quite safe to assume, that some of them will in fact have developed some form of life, even intelligent life, meaning conscious beings. The statistics are in our favour. Just multiply 2000 billion x 100 billion x the chance that intelligent life will develop on a life friendly planet. That's probably hundreds of millions of planets with life. And, let's not forget: the observable universe really exists. Summary: we can't prove it, but it is statistically very likely that we are NOT the only intelligent conscious beings in the universe.
So then the question comes up: why would "complex lifeforms" all over the cosmos, generate consciousness? Let's be open minded about this and realize that we are not the center of the universe.
Consciousness all over the universe?
Consciousness is puzzling many researchers and scientists. How is it possible that something consisting of matter (our body) apparently generates something which can not be explained in any terms of matter. (read here)  Many smart people have been thinking about it for ages. The generally accepted "materialistic" concept is that what we experience as consciousness, must be produced by the brain and when the brain is gone, so is that consciousness. End of story. Or?
Our brain certainly is a super complex organ and essential for the bodily experience of consciousness, just like our eyes and eyesight are required for seeing light. Could it be that our brains do not actually "generate" consciousness, but rather somehow "perceive" it? As a metaphor: we would never say that the source of the sunlight we see, is our eyesight. Clearly the sun is the source.
Likewise, could it be that the principle of consciousness is universal and therefore can be "perceived" by a sufficiently complex brain? For example, we would not say that our brain "generates" universal mathematical principles, rather we say that we "discover" them. So actually, we don't know what consciousness is. Some researchers and philosopers say it might even be a fundamental in the cosmos, just like mass, space and time and it is not reducable to anything else. See here and here.
The point we want to make: we suggest that it is VERY likely that consciousness has been "discovered" or "manifested" all over the cosmos. That may mean something.
~~~
@YOU: Do you agree, or do you think Earth is the only place where there is life and consciousness?